The large city of Riverside offers a vast selection of different neighborhoods with abundant housing options to choose from. No matter what you love doing on a daily basis, whether you are an artistic soul or prefer a healthy life spending a lot of time outdoors, Riverside and the surrounding areas offer everything you need. The neighborhoods of Riverside, each unique and diverse, can provide you with a tough decision to make. This is why we have selected the 5 best neighborhoods in Riverside for you to choose from.
Downtown Riverside
If you are a history buff, relocating to Downtown will be a dream come true for you. Home to a large number of historical sites, and more than 30 landmarks, Downtown is a beautiful part of Riverside that residents love spending time in. Tree-lined streets offer the perfect route to stroll on while visiting the Fox Theater, The Mission Inn Hotel and Spa and The Riverside County Historic Courthouse. From Thanksgiving through New Year, the Mission In is decorated with more than 3.5mil holiday lights, and animated figures during the famous "Festival of Lights." If you love spending time outdoors, you'll enjoy spending your days at the Fairmount Park, and hiking to the top of Mt. Rubidoux. A 209-acre historical park, Fairmount Park includes Fairmount Lake, Fairmount Golf Course and Lake Evans. Mt. Rubidoux is a 161-acre hill that rises above the Downtown district, offering a selection of hiking trails that point you to the top of the hill and offers some of the best, immaculate views of the city. Most famous for its 4 th of July fireworks and Easter Sunrise Services, you will love enjoying the nature of this expansive green space. If you are a foodie, you'll hit the jackpot by relocating to the Downtown district. No matter what you prefer, you'll find some of the best diverse eateries here, compared to the entire city. There are so many options to choose from, such as Le Chat Noir, Mario's Place and Old Spaghetti Factory. There are two schools in the Downtown district, including St. Francis de Sales and Bryant Elementary. The average rent in this neighborhood is around $1,700, while the median home price is somewhere around $300,000.
Wood Streets
Located close to Downtown, the Wood Streets are one of the most sought-out places to live in Riverside. When looking for a home in the Wood Streets, you'll quickly realize that you will have a large selection of beautiful homes to choose from, as the entire neighborhood offers a 20's vibe – and this is clearly reflected in the housing. As most homes were built before World War II, they offer the entire neighborhood a distinctive, historic feel. Another unique fact about the neighborhood of Wood Streets, is that it partially sits on naturally flat land and partially on a manufactured land area. This neighborhood offers a strong sense of community and most residents own their homes, with a small percentage of renters. However, as time goes by and generations pass, there is a rise in the percentage of renters in the neighborhood. The average rental price in the neighborhood of Wood Streets is around $1,800, while the median home price is around $350,000
Canyon Crest
One of the largest and culturally diverse suburbs in the city of Riverside, Canyon Crest offers some of the most interesting housing options to choose from. The hills that surround the neighborhood have shaped the development of it and offer some of the best, breathtaking views in the entire city. By living in Canyon Crest, you'll never experience boredom as you will always have something to do. The Canyon Crest Towne Centre offers amazing shopping opportunities, from boutiques to groceries – and you will be able to find everything your heart desired. When you get hungry from all of the shopping, you'll find yourself surrounded by plenty of eateries, offering some of the most diverse places to grab a bite and satisfy your cravings. If you want to find some amazing recreational opportunities and spend some time outdoors, you can choose one of the many walking trails scattered around the Canyon Crest area, or perhaps visit the Sycamore Highlands Park. A 10-acre neighborhood park with abundant trails, Sycamore Highlands Park is located within the Sycamore Canyon Wilderness Parking. If you aren't happy with the thought of going for a hike, try Andulka Park, a 30-acre park with two baseball fields, two basketball and volleyball courts, a tennis complex, a children's playground and more. Here you will find everything you could need for a fun day spent outdoors. The average rental price in Canyon Crest is around $1,600, while the median home value is somewhere around $400,000.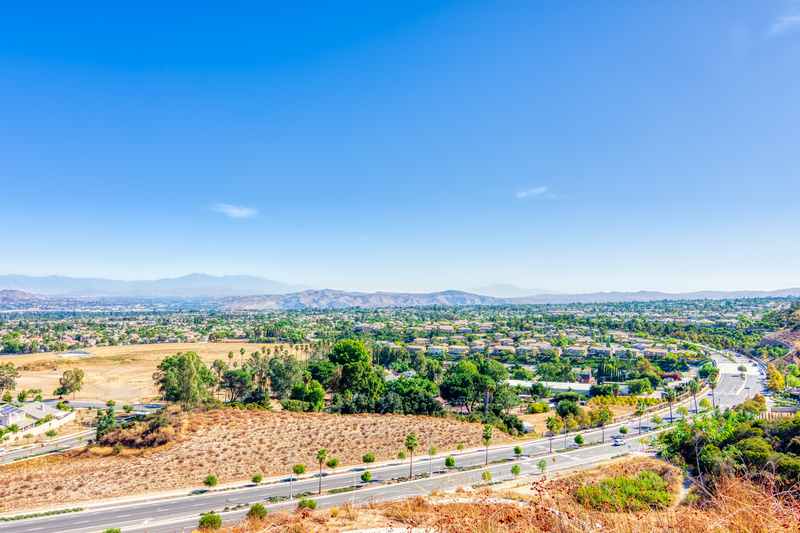 Mission Grove
Mission Grove, named after the unique Riverside heritage – the Mission Inn, and the famous Citrus Groves, you'll find the neighborhood of Mission Grove to be the perfect blend of single-family homes, apartments and condos with a strong sense of community being present constantly. One of the best hotspots in the neighborhood – Mission Grove Plaza, offers some of the best eateries and entertainment options for you to choose from, guaranteeing that boredom is something you could hardly experience by becoming a resident of this community. Centrally located along Alessandro Blvd near Mission Grove Parkway, the Plaza offers easy access to many other points of the city and an easy commute for the neighborhood residents. The schools in the area include John F. Kennedy Elementary, Riverside STEM Academy and Martin Luther King. The average rental price in the neighborhood of Mission Grove is around $1,700, while the median home value is around $440,000.
Orangecrest
A newer neighborhood when being compared to Downtown for example, Orangecrest became a community of its own in 1986. Bordered by the March Air Force Base and Mission Grove, the neighborhood is packed with mostly single-family homes. Why is Orangecrest one of the most, if not the most sought-after neighborhood in Riverside? It offers extremely easy access to everywhere you need to be, and is home to the Orange Terrace Community Park, that offers softball and baseball fields, a basketball court, picnic area and a Splash Pad. Shop until you drop at one of the shopping centers lining the Van Buren Blvd and Trautwein. If you're wondering about the schools in the area, Orangecrest offers four elementary, two middle and two high schools that offer exceptional education for the students of the community. The median rental price in Orangecrest is around $2,000, while the median home value is around $450,000.