Changing your address and finding a new home can be such an exciting process, especially if you are moving to your dream home (or an office). And it doesn't matter if you are moving next door or you are moving across the town. However, it can also be such a confusing period full of stress. After all, it's not just a big change, but it's a period of your life with a lot of responsibilities, so it's reasonable that you want to have someone's help.
That is why many people decide to hire local movers, but is that enough to help you avoid all the mistakes? Unfortunately, it's not. Besides finding local movers, you will have to organize packing, prepare your homes for moving in and out, etc. And this doesn't matter if you have moved before or this is your first time moving, mistakes are still possible.
Once you go through our text, you will get the idea of what things need to be done and where you should focus your attention before the move, during it, and after you have been moved into your new place. We will help you to avoid beginner mistakes when it comes to packing and moving. Without further hesitation, let's dive into details!
You didn't pick trustworthy and reliable local movers
The first thing you can do wrong is not researching local movers before booking them. When you decide to move, the first thing you should do is find reliable local movers to handle your relocation process. If you hit the first company that comes your way you might be making a huge mistake. The best way to find your local movers is by asking someone for a recommendation – a friend or colleague who has moved recently and is satisfied with the moving company they picked.
If you don't have anyone to recommend a moving company to you, go to your browser online, search for "local movers near me" and you will be presented with several moving companies in your vicinity. The key is to pick the right one. Try to find at least four different moving companies and get their rates. Call them and find out more about their service. Compare their prices along with the service local movers are offering and what it includes.
Check their referrals and online reviews. And make sure you are hiring licensed local movers, without that you shouldn't even consider them. After that, you can be sure you have done everything in your power to pick the most trustworthy company. You're all set to have a successful relocation process.
You are too trusting and don't need to check on your furniture movers
On the other hand, if you search for "cheap movers near me" and choose the cheapest company you see, you might end up in a problem. Not everything local movers advertise is true and after all, you will be letting those people in the home take care of your belongings. Especially if you have heard about crazy moving stories that people had. You might think twice before deciding which company to hire.
If you're too laid back and let local movers handle everything without even saying what you want and making sure they understood it right, you might be causing yourself more trouble. Of course, if you do your research and choose the right moving company, you truly can just sit back and enjoy the process. But, if you don't do your research and pick the first company that comes along, you might not have a pleasant experience with your relocation process.
This is just a recommendation, not all cheap companies are bad, of course. The main thing is that you research before hiring any, regardless of the price they can offer you. But you know what they say, better safe than sorry.
You don't declutter before the packing process starts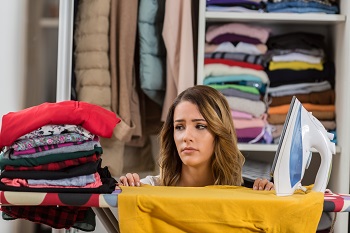 Can you think of a better opportunity to get rid of everything that you are not using and that you don't need than moving? Not only moving fewer items can reduce the price of local movers, but it will also keep the energy in your new space fresh and new. The simple rule to follow when it comes to clothes, if you haven't worn them for more than a year – you can freely say goodbye to them.
If you are not sure what to do with the items you don't need anymore, you can sell them, donate, or throw them away. If you are planning to get rid of some furniture, no matter how your local movers can help you out with it. When selling your items, you can have some fun at the same time, if you organize a garage sale with your friends and family. In case you don't have much time, space, or energy for that – you can always sell those items online.
And for donation, many organizations will appreciate anything you can spare for them. If you wish for your local movers to throw away some of your belongings, you will have to find an official dumping area and be there with them.
You are procrastinating too much
Procrastination is your worse enemy when it comes to moving, so try to avoid it as much as possible. Usually, people procrastinate when it comes to packing, but this can be the case with other tasks too. However, the worst-case scenario is when you don't start packing in time, and you end up not being ready to go when your local movers arrive. No matter what, when you are late with all of your tasks, that will cause a lot of stress, because you will lose a track of everything. A good organization is key for a successful move. This should be rule number one when you are planning a local move.
You are packing on your own without making a plan beforehand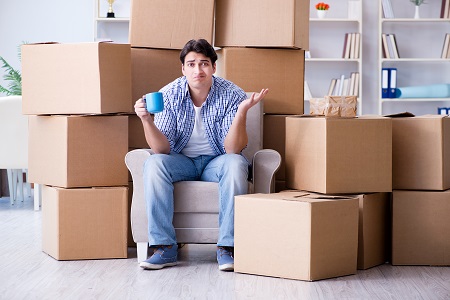 Packing is the most time-consuming task that requires the most energy out of all responsibilities you will have, so you will have to make a plan for it too. Don't start packing without making a timeline for it, and a decent plan. The goal is to be packed and ready to go at least a night before your local movers arrive, so make a plan according to that. So, come up with a plan and dig into the action.
If you realize you don't have enough time for packing, you should ask your local movers to help you with this task too. It's better than ending up with a chaotic packing process that might lead to damages, instead of having a stress-free moving process.
You are not labeling the boxes which are packed and ready for move
Labeling boxes will not only help you to know what is packed and ready to go and whatnot, but it will also help you when unpacking. The whole process of unpacking will be much smoother and faster, and you won't procrastinate that much when it comes to this. Also, make sure to add notes for your local movers if there is something fragile inside the boxes or if something requires special handly.
There are many ways to keep this process organized, from color coding, labeling boxes in numbers, and so on. You should find the one that is suitable for you, and go for it. Labeling in numbers will help you determine if everything arrived at your new location. This is the step you shouldn't skip by any cost.
You are not taking inventory while packing
If you don't take the inventory while packing, you won't have any clue if all of your belongings were packed and relocated or not. This way, you will be sure that everything arrived, and that everything arrived safely. It's crucial to have your moving process organized, so make sure to do so with every step you will encounter.
You are not making a checklist
Moving is not the right moment to test your memory and to see if you can memorize every task that you will have on your plate. And trust us, there will be many. That is why you should make a moving checklist, to keep a track of everything important. Besides making a to-do list for the actual moving service, you should make one for packing too.
The best way to sort things out and to keep a track of everything important for your move is to create an online folder where you will keep all the information that you have gathered, to-do lists, and also all the documents you will receive from your professional movers. Prevent forgetting even the sightless detail by writing everything down. Keep the stress away from your move with simple steps!
You are spending a fortune on boxes and other moving supplies
If you are moving for the first time and you decide to pack on your own, you will need packing supplies. However, there is much you already own which can be used as free packing supplies. First of all, you can go to a local store and ask them to give you all the boxes they don't need anymore. If it's' strong enough for glass bottles, it will be strong enough for your upcoming move. Also, you can use any type of container at your home – dirty laundry basket, toy boxes, suitcases, etc. Instead of protective paper and bubble wrap, you can use your towels, clothes, blankets, and bedding.
As you can see, you don't have to order a ton of packing supplies and waste a lot of money. You can use things you already have and thus save some money. And if you are hiring local movers to help you with packing, they can provide you with their packing boxes. This comes with an additional charge, so see if that is suitable for your needs.
You are not buying insurance for valuable items
Professional movers will have basic coverage insurance included in the price if you have found licensed local movers, but if not – you should change the moving company. However, if you have some valuable belongings, you don't want to jeopardize their safety, so make sure to purchase third-party insurance, at least for those items. Even though furniture movers are trained and experienced, damages can still happen, no matter how careful your team is. So, make sure you keep everything in the right order.
You are forgetting to change your address
In all of that chaos that comes with moving, it's easy for some things to slip off your mind. But if you forget to change your address, you will get all of your mail and packages that you have ordered at your old address, and who knows if you can get these items ever again. So, don't forget to change your address before your local movers arrive, so you can have a simple process.
Now it's time to schedule your move! If you want to find the best moving company, you can't just type cheap movers near me for so. You should hire Riverside Pro Movers if you would like to have a stress-free moving process. We are here to make the whole moving process simple, you just need to share more details with us, and we will come up with a unique moving plan for you.
Our customer support department is at your service every day of the week, so don't hesitate to give us a call. Since all of our local movers are trained and experienced, you won't have to worry about a thing when it comes to the safety of your items. All of our professional movers are carefully selected and trained before they can start doing the actual moving projects. Your items are in safe hands, that is guaranteed! So, give us a call and get your free moving quote today. Riverside Pro Movers is here to make your moving process easy and stress-free. We are looking forward to talking to you.